Rhee has a proven history of dealing with bees. But the buzz on the street is that she has now moved on and will leave these natural pollinators alone to do their vital work.
Yet, she can surely take all the old Rhee that we have come to love and adore and apply it to her new role as Garden Reformer.
If you know Michelle like I know Michelle, she's got some definite reforms in mind for Miracle Gro. She'll soon be launching YardownersFirst with the stated goal of raising a billion dollars in one year.
So, what will be some of her ideas for reform? Well, for one, there's a great new recipe for compost. It includes piles of high-grade, entirely shredded, vintage D.C. testing materials, guaranteed to bring as much green to you as they did to D.C. teachers awarded merit pay.
Michelle Johnson realizes more than the average reformer the importance of weeding out ineffective gardeners. After all, if your crops fail, flowers wilt or grass browns, the gardener is the logical one to blame. It can't be the lack of water, over-watering, intense heat or any one of a number of other factors. Michelle will introduce a new VAM formula. An upgrade from Garden Weed Preventer, it will actually weed out ineffective gardeners.
Michelle has designed a strict system of accountability to determine which gardeners are succeeding and which gardeners are failing. For those who fail, their business will be closed and taken over by Success Gardeners, a newly chartered company with "branches" in many states. Its day-laborer employees have great pride in working hard every day--despite their lack of any and all job protections. Baking under the bright sun, the merry band of workers can sometimes be heard raising their voice in song from the fields, odes to Cesar Chavez and calls to God.
In a variation on a popular product, Michelle has developed ULTRA INBLOOM, a data base to store information about every customer's yard with special offers to purchase additional Scotts' products. The site will also contain gardener ratings. It seems some of the worst gardeners live among the
Samburu in northern Kenya
; others in the Gobi and Sahara.
Richard Gibson, a dairy farmer from Devon, England, saw his gardener APPR ratings take a devastating dive shortly after filming this scene for the BBC. So, YardownersFirst is developing a program to bring talented, GFA, Garden for America, youngsters, fresh out of the Ivy League, to solve the problem. The Samburu will accept a new Common Seed planting program in return for accepting large federal Race to the Root grants.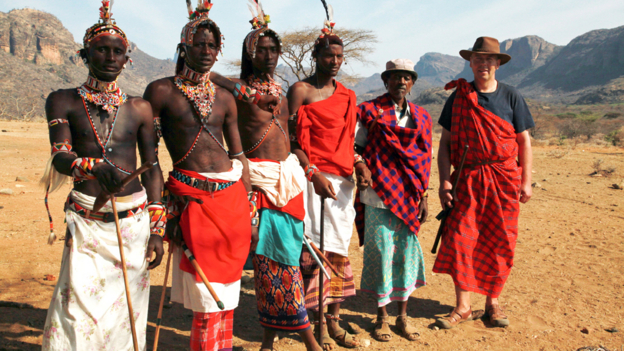 Some members of the Samburu rose to reject the money and defend the reputation of Mr. Richard Gibson. Michelle was ready. She delighted in showing them a trick for quelling tribal dissension. Given Michelle's level of expertise, the company is now considering a new line of Scotts' Tape.
With Michelle working for you, what could possibly go wrong? Your garden will grow, not inch by inch, but yard by yard. You can have full faith that you and your family will enjoy your garden for many happy years to come!
But just in case things don't go as planned, you might want to be ready!