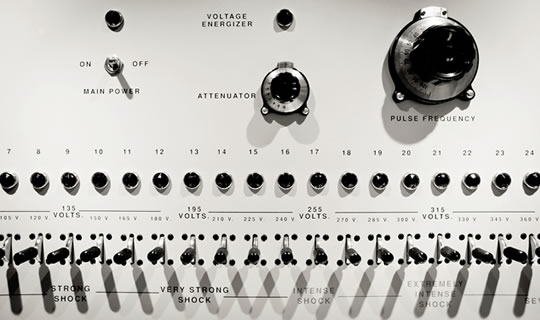 Stanley Milgram is best known for his experiment on obedience to authority. In his experiment, individuals were coaxed by authoritarian figures to inflict shocks of increasing voltage upon fellow human beings, including one with a "heart condition," for every wrong answer given. Unbeknownst to the subjects meting out the voltage, the recipients were confederates faking real pain from only imaginary shocks.
I propose a new experiment. Governor Cuomo has made it clear that although Common-Core NYS test scores will not immediately impact students, they must impact educators via the APPR evaluation system.
In my experiment, students without a care in the world, knowing that their answers on a test will have no negative impact on themselves, haphazardly fill in their bubbles online. For each incorrect answer, the computer sends an electric shock to the student's teacher. The shocks increase by 15-volt increments as the students continue to bubble incorrect answers. In this experiment, the shocks will be very real. If the student begins to worry about frying his or her teacher, the authority figure in the form of an educational deformer can bully the child into continuing.
A system like this will save educational deformers countless millions of dollars. Instead of risking law suits raised by teachers who are relieved of their duties based largely upon the test scores of their students, or, as the system works now, other teachers' students as well, there will be but little unfinished business once the tests are completed. Teachers will be fully fried, paving the way for cheaper labor. (Sadly, in the future the CCSS tests will count for students and, if 2013 is any indication, many will suffer). Then, the only unfinished, ugly business will be the removal of teacher remains. Makes sense in this new day and age of educational deformity, no?